ADDING ENGINEERING TO THE NEXT BUILT...YOU DREAM IT, WE BUILD IT.
LESB started it's civil engineering field focusing more in the oil & gas industry with PETRONAS, SARAWAK SHELL BHD, ExxonMobil, Murphy Oil, since 1999 before diversifying into government sectors, such as JKR, JEBALB, SARAWAK ENERGY, SARAWAK FORESTRY and other private development sectors. With the expertise obtain through working in petrochemical plants and stringent safety regulations had made LESB to developed itself into a more safety awareness mind set, when executing each job at any project site.
That's why the slogan "NO Safety, KNOW Pain, KNOW Safety, NO Pain" is an important metaphorical safety awareness to all LESB project team when carrying out any civil engineering works at any site location. SAFETY FIRST has always been the main factor for LESB upon executing any operations at site, no job is too big and no job is too small, it is a practice by LESB to never compromise HSSE over quality or completing the work on time.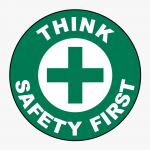 SAFETY FIRST! ALWAYS.
LESB has established a Health, Safety and Environmental Management System (HSE-MS) designed to comply with the requirements of the OHSAS 18001 standard in accordance with the company policy and appropriate to the nature and scale of all its activities. This policy will be reviewed on a regular basis to ensure that it will remain relevant and appropriate to the activities of LESB. The HSE Adviser will be responsible for ensuring implementation and maintenance of the system and report directly to the applicable Contracts Director.